I do believe I promised monthly Favourite posts on a more regularly basis...like, on a monthly basis...obviously. Well...heh...heh...
that
didn't happen. I blame procrastination. I've been making lists in my head each month like, "Oh, yeah. Damn, this needs to go in my Favourites." And then I get busy and have other posts or just get lazy. So, I'm like "I'll do the Favourites post next week." Then next week happens and the one after. Suddenly, it's the next month. And I've left it too late.
So, yeah...sorry about that.
But here I am with one again for a combination of two months. And, boy is it chuck full of good stuff as a result. Hold on to your butts, here we go.
Television.
I've been super-into a lot of shows the past two months - some new releases, some old favourites. But they've definitely overshadowed movies. I feel like I had a slump with cinema for a while there but programming has been knocking my socks right off.
Goddamn short-lived, wonderful shows.
Wonderfalls
is a 13 episode long, 2004 show about a young woman named Jaye who is in her twenties and has no idea what she's doing with her life....I wonder why I related to it so much? In the show, inanimate objects start to speak to her and alter the path of her life and those of everyone around her, causing Jaye to rethink everything she thought she knew about the world. The cast is perfectly chosen, it's funny, there's some amazing/dodgy early noughties fashion and Lee Pace is in it. 'nough said, amirite?
Seriously though, it's something I remember seeing on television when it first came out but I was too young to get. Now, I see that it's kind of the less obnoxious, more charming alternative to
Girls.
It deals with the same themes of figuring out what you want and where you're going, love, friendship, dealing with being an adult and the changes to family dynamics that come with that. The characters are flawed and imperfect but so much more likeable, IMO.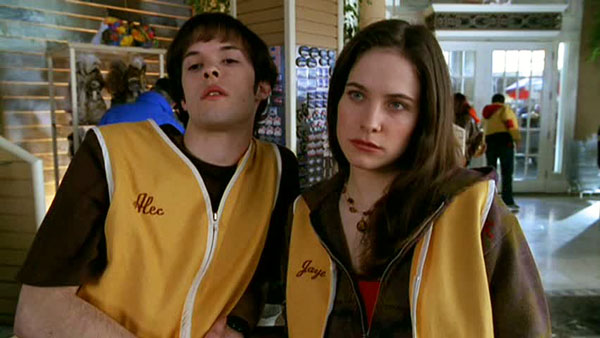 Pushing Daisies
More noughties goodness, more Lee Pace, more of a show that should have gone on for longer.
This show is just the epitome of charming. Like, really. It follows the adventures of Ned, a pie-maker who can raise the dead (with limitations) with a touch, Chuck, his childhood sweetheart who he brought back to life, and their friends. The romance between Ned and Chuck is just...perfect, for lack of a better word. It's very sweet and the way they look at each other is beyond enviable. The whole show is quirky, dreamlike but sardonic enough to avoid being twee. I can't recommend it enough.
Launched just this year, iZombie came to me when Gerard Way tweeted about it. It's based on a comic book and, though zombies seem like tired territory, this is a different take. It's more self-aware and less about the living dead and more about living. Again, we're talking people in their twenties figuring shit out. The main character, Liv Moore (lol), is a medical student with a nice fiancé who becomes a zombie and has her whole universe turned upside down. She appears normal but has to eat brains to live and, when she does so, takes on the memories and personality of those she consumes. In her new role as a medical examiner, she begins to work with a detective to use those memories to solve murder cases.
Basically, though, all you need to know that Rob Thomas is involved. If you liked Veronica Mars, this is probably going to make you happy.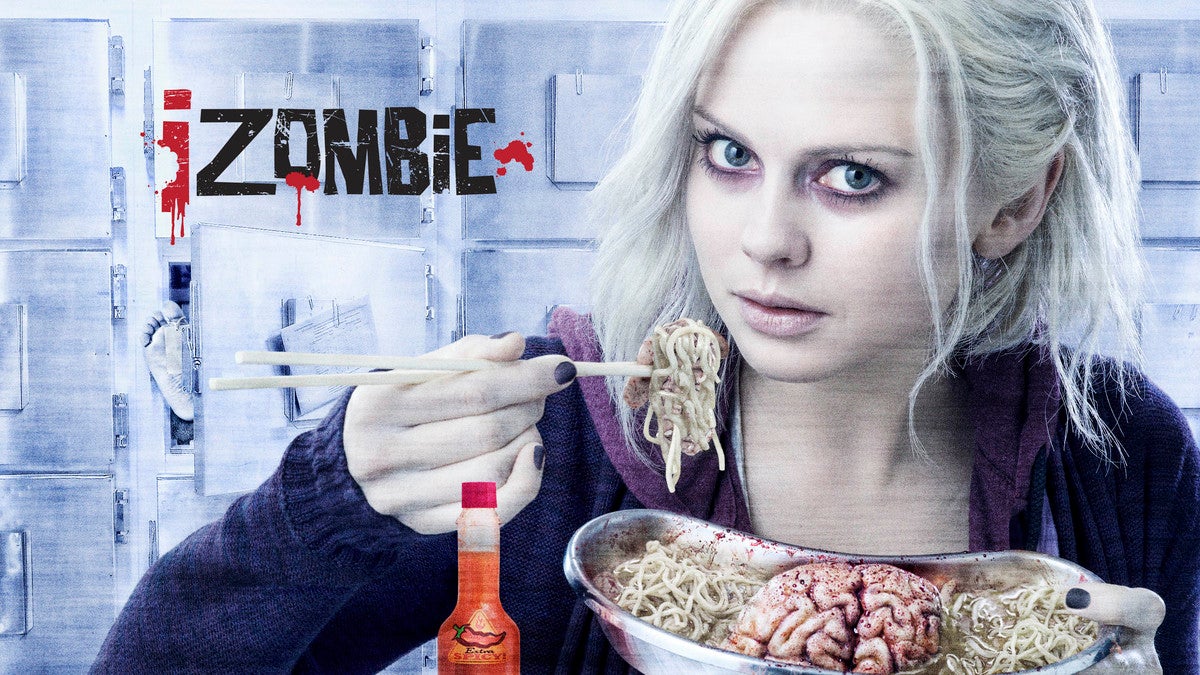 I'm still not sure how I feel about Netflix's Daredevil adaptation. It's better than what we've gotten out of the character before but I'm still not sure if I'm 100% convinced...All the same, I binged on it. And Charlie Cox, who plays Daredevil, is damn easy to look at. He's always been one of the coolest of Marvel's characters in my mind - I mean, a blind superhero, come on - so I'm glad he's getting his own show. Plus, the whole thing connects in with the wider Marvel cinematic world which is rad.
For sure, worth a watch.
Music.
I've been binging on The Cure a lot lately. I love a lot of their less obvious songs, ones from ancient albums that are quiet and sad and so beautiful they make me ache. Anything that makes me imagine Poe scenes on cliffsides, really.




The new album, Froot, is the shit. Seriously. I'm talking days and days of listening to nothing else. Or belting out the lyrics until you notice someone else has popped into the room...which is always awkward. Especially if you do it at work.
This Youtube musician does a lot of AMAZING covers. Stick anything she has done on when you need to relax because everything she touches is beyond lovely and sweet.
When the weather gets better, I start to
devour
books. Usually, My activity levels stagnate in January and February and I choose more passive modes of entertainment. But, once I come out of that last period of cocooning after winter, I want to read again, to engage my brain a bit more. I grab books and start to venture out into the world again. YA fiction and old favourites, comforting things, nostalgic things, easy things, begin the process. So, I've been reading a lot of old Meg Cabot classics that I loved as a teen and still adore. I also read some YA that was new to me and which I really enjoyed, including the
Abandon Series
by Cabot which follows Pierce, a teen who had a near-death experience and John, king of the Underworld. It basically retells the Persephone myth in a contemporary setting. Two other YA books intrigued me recently; Holly Bourne's
Soulmates,
which suggests the subject-matter in the title. and
Shiver
by Maggie Stiefvater, which takes an interesting twist on werewolf lore. Other than these books, I've also been dipping in and out of Roxane Gay's
Bad Feminist,
a collection of essays about being a feminist, a woman and a woman and feminist. I've really been loving it, especially as the essay format gives me time to think and work out my own feelings on the topics without being overwhelmed.
Beauty & Fashion.
I have two major make-up loves these past two months. The first is
Collection's Lasting Perfection Concealer
which has been stripped of the writing on the packaging. My make-up tends to look pristine as I use it so infrequently so this is a sure sign of how much I've been using it. It's so lightweight but has great coverage for my nasty, nasty breakouts! Also, it's amazingly reasonably priced - just over a fiver!
I've also been LOVING
Inglot's Freedom System Blush
in the shade 125 which is peachy, pretty perfection.
Skincare and Haircare
Things I've been reaching for to keep my face and hair in check pretty much on the daily for the past two months are:
Aveda's Volumizing Tonic
(just a spritz at my roots to stop my hair from being too flat),
Elizabeth Arden's 8 Hour Lip Balm
(to keep the chapped lips at bay),
Trilogy's Blemish Control Gel
(to banish spots),
Botanics' All Bright Hydrating Day Cream with SPF15
(for moisture and SPF in the morning at a great price point) and
Mio's Boob Tube
(for intense moisture and plumpness to the skin and an AMAZING scent).
Also, I'm just crazy for everything and anything made by
Neom Organics
- the best smelling products in the world? Perhaps.
Fashion
Denim, denim, denim.
Oh, and my new selection of sunglasses from Boohoo. YES.
Miscellaneous.
Cherry Blossoms
One of my favourite things. Ever. Ugh, so beautiful.
The Hobbit Production Videos
I finally got around to watching the last Hobbit movie in March. And then I watched all the Youtube behind the scenes content I could find. Peter Jackson put up production vlogs that are fantastic and perfect before bed viewing.
Well, that's a lot that I've just thrown at you...Sorry this turned into such a monster but hopefully you'll have found it interesting/found something you like/both.
*
Liked this post? Want more?
Follow me here using google friend connect or bloglovin.