Clelia Angelon is a powerhouse of a woman. She has created an internationally successful beauty brand, travelled, done extensive humanitarian work, rescued a lion from a circus (!) and formed a band with her employees. Her company, Surya Brasil, makes natural (organic, where possible), vegan products sustainably. It is now carbon neutral and serves both the local community through various schemes and its own workers, who are given organic, vegan breakfasts each morning. When I speak to her in Dublin she laughs and jokes and chats with me very earnestly. Her joy for what she does, and how she does it, is apparent. And, at the end, when I turn off my dictaphone and we chat for a few more minutes, she extends an invitation to visit her if I ever find myself in Brazil. She offers to show me the best clubs to go dancing and the animals she continuously rescues and accumulates.
Image via suryabrasilproducts.com
Moi: So, what in your background motivated you to be so green?
Clelia: Okay, eh, I started researching y'know...natural living...when I was eighteen. And my father was the start because he had some issues about health. And I went from macrobiotic, to whole foods, to vegetarian, to raw food. So, today I'm vegan. My company's vegan, I'm vegan...And since I was twenty-eight years old, I started to y'know make vegetarian food, whole food...all natural. I wouldn't allow my children to take sugar in the house...no soft drinks. So, my children were brought up with these ideas. And, then, in 1995, my daughter and I decided...my daughter said why not make a company according to our way of living, y'know. And all the time we were animal lovers, animal protectors and doing social work. So, we wanted to do something we believed in. And not just to make a trading company to make money. To survive. So, we created a company that started worrying about sustainability, to start worrying about social work, starting with caring about the animals. And the most important thing, respecting the consumer. Not just to launch a product that will give them a quick result but in the medium-long term, damaging their health...that's going to damage the environment. And for that I have to test on animals, to use and kill the animals. No. I wanted to respect the consumer, the animals, the planet. And, we think that everyone in the world has the responsibility to give back to the communities they live in. So, we do a lot of social work with the small children, with old people, with animals, with the environment...we have a lot of sustainable actions....like, em, gathering the water from the rain, eh...using clay filters...not using plastic but using a bamboo glass...I don't know what you call it-
- a tumbler...to drink from. Clay for coffee, tea and coconut milk...we don't use cow milk. We give a big organic and vegan breakfast to our workers each day...They used to come in the morning and take this margarine and white bread with milk with coffee. And I had a vegan company! I felt so guilty! So, now they are so happy...In two months, I'm going to restructure my kitchen and they'll have lunch too...They're going to have proper food.
So, that makes sense. You're investing in your company when you invest in them.
You know, eh, when you invest in your employee, of course you're doing your obligation, your duty. But, I tell you, the results are much more than you expect. Because they are happy, they fight for you. They, y'know, have more energy to work. They bring all this energy to the product...The environment is good. They're happy...laughing. They make a band. You know, we formed a band...
I know! I read about that!
Hahaha, you read about it? We made a band. You know, I hope we are successful in exporting West because if we are then I'll bring them all over the world! Hahaha. Because you know, I'm a little bit selfish and I want to play in the band.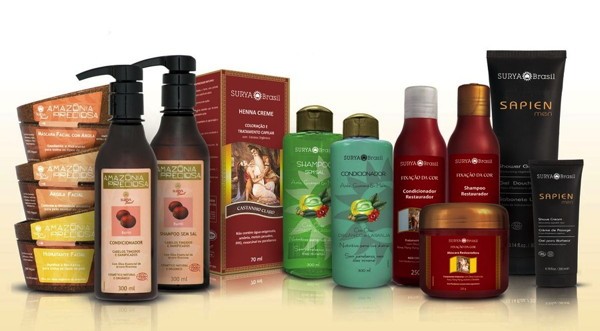 Some of the lines.
So, obviously it's more difficult to go about business the way you do. But, because you're doing it, it's obviously possible. Do you think with other companies, it's just laziness or...?
No, they are not aware. Because I tell you, it's not difficult. It's difficult maybe when you have to convince, the retailer. But with the consumer...no. I'm very lucky with consumers. I don't have customers, I have followers. Whenever you want to complain about a product, you write us. And you'll never believe the complaints we get. "I can't find Surya!" "You're such a responsible company...why, in my small town...I don't have Surya!" They don't write to complain, they write to say "Oh, I love Surya." Hahaha...When I opened an office in New York...a Texan woman...and she said, "I don't think you're going to survive because it's a very wide market. But I want to buy enough for one year because you're product is so good I can't live without it!" Hahaha. So, they're all so enthusiastic!...I have problems of course. We had problems with the government. Companies were lobbying against organic products...So, the problem I have is with government to accept this...eh, sometimes to convince some retailers. But once they start, they can't stop. Because if they stop, the client goes and starts shouting.
Our business is to do a collaboration. My relationship with my employees is exchange, it's collaboration. I always tell them, "Here, who commands is Surya Brasil. I am also an employee." My duty is strategy and to give the rules. But we are all together in the same boat. If something happens to the company, I lose, they lose. We are responsible for the community, we are responsible for the consumer, for the animals.
And this causes problems. Any dog they see in the street, they bring to the company...I have many [animals], pigs, a lion-
Yes, I rescued a lion. Hahaha. I paid for his transport from a circus. He was there for twelve years...now he lives in a beautiful place. And then, the pigs. And then I have two horses...We are going to have a film that my PR from the United States made. So, you are going to see this film showing the horses, showing the pigs...showing all the animals that we rescued.
So, most of my skincare now is by an Irish organic company, VOYA and people say to me, "Your skin looks great" when I meet them. And I think, with organic products you really see the results long-term. It affects your body in such a positive way.
It does, it does! Because you know when you use these mineral oils they put in moisturisers, it gives you the momentary result. But in the long-term it gives you premature aging.
Do you have a favourite product from the line yourself?
Amazonia Preziosa.
Yeah, yeah. I use the shampoo, conditioner, the 100% oil, moisturiser – only this one...[The packaging] is 100% biodegradable. It's made out of wood resin and you can just throw it in the earth and 6-8 months, it's gone. Even if you leave it many years on the shelf, it'll start fading.
Many of Clelia's own favourites come from this line!
You've done so much in your career, is there anything you want next?
We opened a factory in New York. We've been in the United States for seventeen years. We are distributed all over the country and we're opening a factory and spa. It's our plan for this year. For my employees, I want to do many things. Like, I'm buying land to make a club for the weekends, to bring the kids...for them to have the childhood I think they should. I'll keep rescuing the dogs. I continue to work with animal protection and some children's charities...What else? Actually, what I want is to launch more products here. We're launching nearly every month a new product. And, em, do a franchise of shops and spas. And, of course, do as much social work and research into sustainability.
Some swag I'll be reviewing soon!
So, there you are! Admirable philosophies, policies and a majorly inspiring businesswoman. Check out the range at the Surya Brasil
site
and keep an eye out for my review of my favourite products coming up soon!